Combined Sewer Overflows (CSO)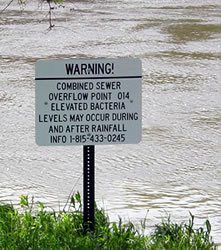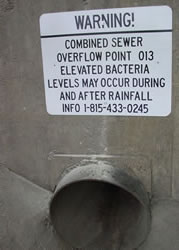 What are combined sewer overflows?
Combined sewer overflows (CSOs) are the result of historic infrastructure practices in which stormwater and wastewater were directed to the same sewer system. In the event of large rainfall or snowmelt events, these sewers may overflow, releasing a mixture of rainwater and untreated sewage directly into surface waters. In Ottawa, our combined sewers overflow into the Fox and Illinois Rivers.
Dave Erwin
Superintendent
301 West Madison Street
Ottawa, Illinois 61350
815-433-0161 ext. 312 Phone
815-433-1934 Fax
E-Mail
Etscheid, Duttlinger & Associates
Tom Duttlinger
Consulting Engineer
301 West Madison Street
Ottawa, Illinois 61350
815-433-0161 ex. 241
815-433-2344 Fax
Emailmailto:tdutt@etch-dutt.com
Thomas G. Ganiere
Commissioner of Public Property
301 West Madison Street
Ottawa, Illinois 61350
815-252-7886
815-433-4457
815-433-2270 Fax
E-Mail